4. Roland OnSupport Setup
Connecting a Device to Roland OnSupport
Connecting the Devices
* "Devices" refers to devices made by Roland DG Corp. The devices that can be connected are only devices supported by Roland OnSupport. For the latest information, see the Roland DG Corp. website (http://www.rolanddg.com/)
Procedure
1. Check that the device is connected via the USB cable to a computer on which Roland OnSupport is installed.
2. Make sure the power to the printer is switched on.
3. From the menu bar, click [Edit] - [Device Management]

The [Device Management] window appears.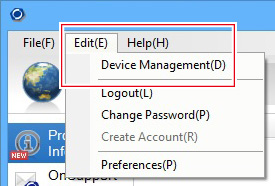 4.

Next to [Port], select [USB], and then select the device you want to connect to.
In case you can not choose [USB], clicking the item shown in [Device List] allows you to choose it.

Click [Verify].
Information about the device connected to Roland Roland OnSupport appears in [Device List].

Enter a [Nick Name] for the device.
If you do not set a nickname, the model name is displayed.

Click [OK].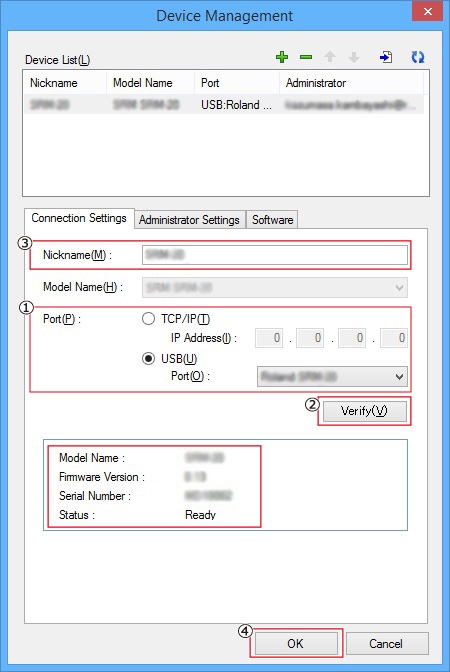 * Information on the device used is displayed when connection is correct.
5. When the window shown here is displayed, click [Yes].

If the [Login] window appears, enter the Roland DG ID and the password to log in.
This is the end of the procedures to connect the devices. An image of the device appears on the Status panel.